Fuzzy Feet finished, Finland reporting
Took me a while but I finally got around to finishing these. I used one skein of Colinette's Skye in colour Cezanne and 7mm dpns and a very short 7mm bamboo circular. I have very small feet so one skein was enough for me.
Here you can see my shorty circular and one fuzzi in the making:
Here are the finished socks pre felted (notice how they do not look alike. Bad knitter, bad bad knitter):
and here are the finished fuzzies (it took a little stretching and tugging getting them to fit as I felted them in hot water in my front loader and they felted more than I thought):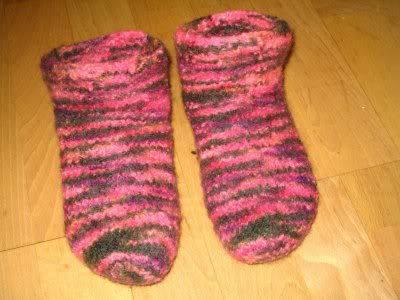 This was an easy quick project once I got on with the knitting. I had a different yarn in mind at first but when I got this Colinette, I just knew this was the yarn. Now I'm already thinking about knitting another pair.